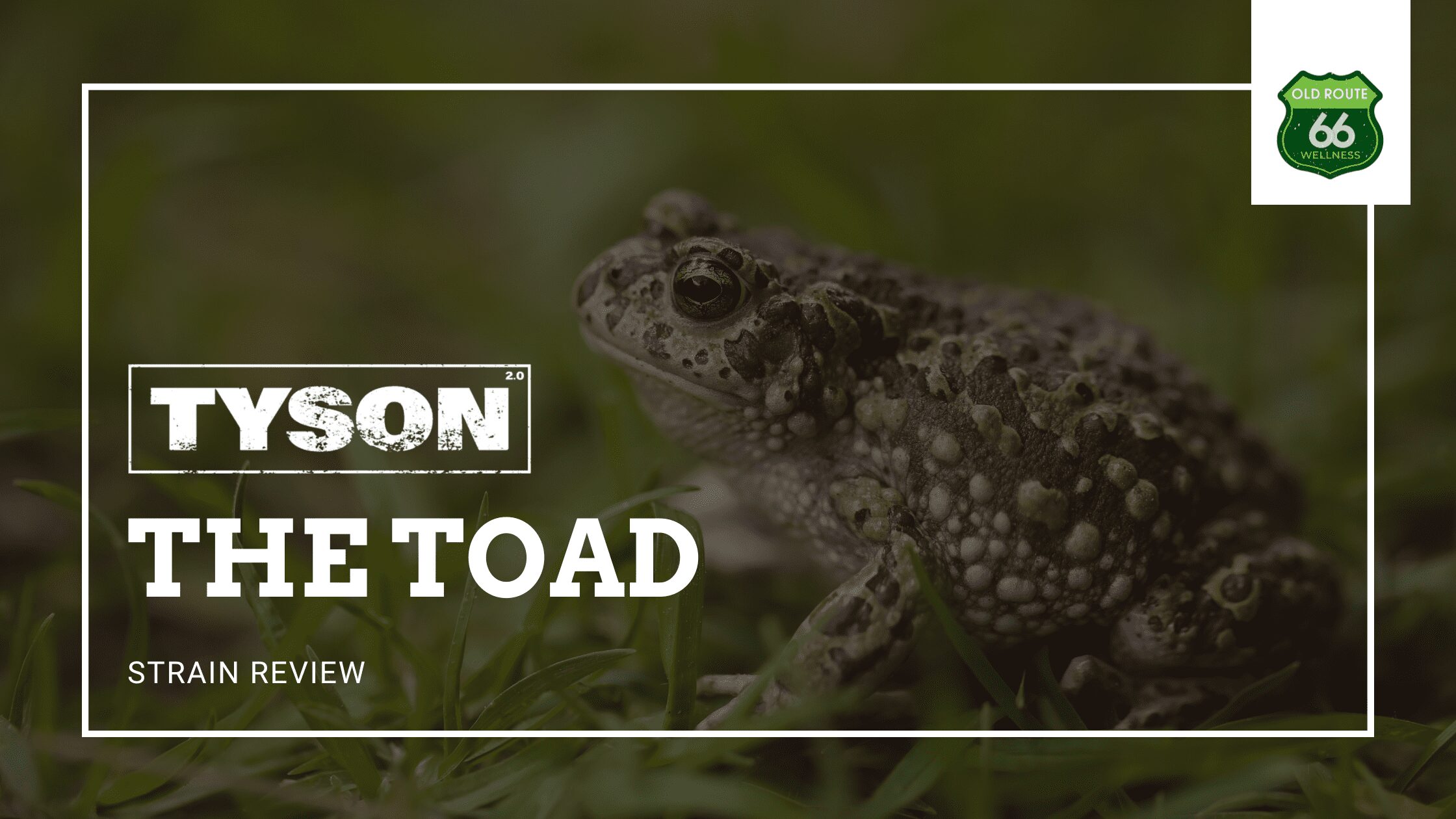 Encycloweedia Bricannabis is jumping in the ring with Tyson 2.0's Toad this week. Lend me your ear and let's chew the fat on this indica dominant hybrid strain. Chemdawg OG and Girl Scout Cookies were crossed to create the Toad marijuana strain. Toad gets its name from the psychedelic toad licking experience Mike Tyson likens this cultivar's unique effects to. Tyson hopes to bring the same relief that's helped him in his boxing career to others through Tyson cannabis, and I have to admit my head is spinning after taking a few hits to the face! Boasting over 30% THC Tyson's Toad is sure to be a heavyweight. 
The flower looked so good when I got a jar it wasn't long before I had to ribbet open. Initially the buds looked dark green, but closer inspection revealed the flower itself to be bright. The amount of amber hair combined with the trichome coating seemed to hide the lighter bud behind, and notes of orange citrus punched my nose from within the jar. There was a more earthy tail to the aroma, making for a nice one-two combo as the scent evolved. A thick smoky flavor was accentuated with a spicy orange that leapt out at first but became more subtle as I held the hit in. With the frog in my throat, I could already feel a euphoric feeling settling in. The toadal effect of the smoke did not set in until ten to fifteen minutes after I smoked. I was feeling hoppy from Tyson's Toad cannabis as it lifted my spirits before slowly relaxing my body. Though my body felt at ease there was no mental frog. Perhaps a tadpole slowed by Toad, but knot enough to wart taking a nap.
Let's further dissect Toad and slice into the science behind the smoke. Cannabigerol, or CBG, was among the measurable cannabinoids in Tyson's Toad marijuana strain! CBG is known as the mother of all cannabinoids, because it is the cannabinoids all others grow from. As CBGA matures it becomes compounds like CBDA and THCA, and as a result most, if not all, the CBG will be gone from a fully grown cannabis plant. CBG alone is non-psychoactive, but binds to both CB1 and CB2  cannabinoid receptors in the endocannabinoid system. My experiences with flower or edibles containing CBG always includes a feeling of eu-frog-ia, which I attribute to the chemical's role in the overall entour-frog effect. One morning I felt a headache setting in, and just halfway through a session of Tyson's Toad the pain had croaked. This is a strain that's sure to leap off the shelves shortly after arriving and you know I ain't-phibian!
Joking and Toking:
What hip hop artist is most liked by toads?
Snoop Frogg
Every now and Zen during Spring I like to leave town early in the morning with my dog, Boba Fettch. We hightail it out to a nearby trail, which one we end up at never matters, and spend a couple of hours walking around. There's something about being outside in the morning hours that makes…
Read More