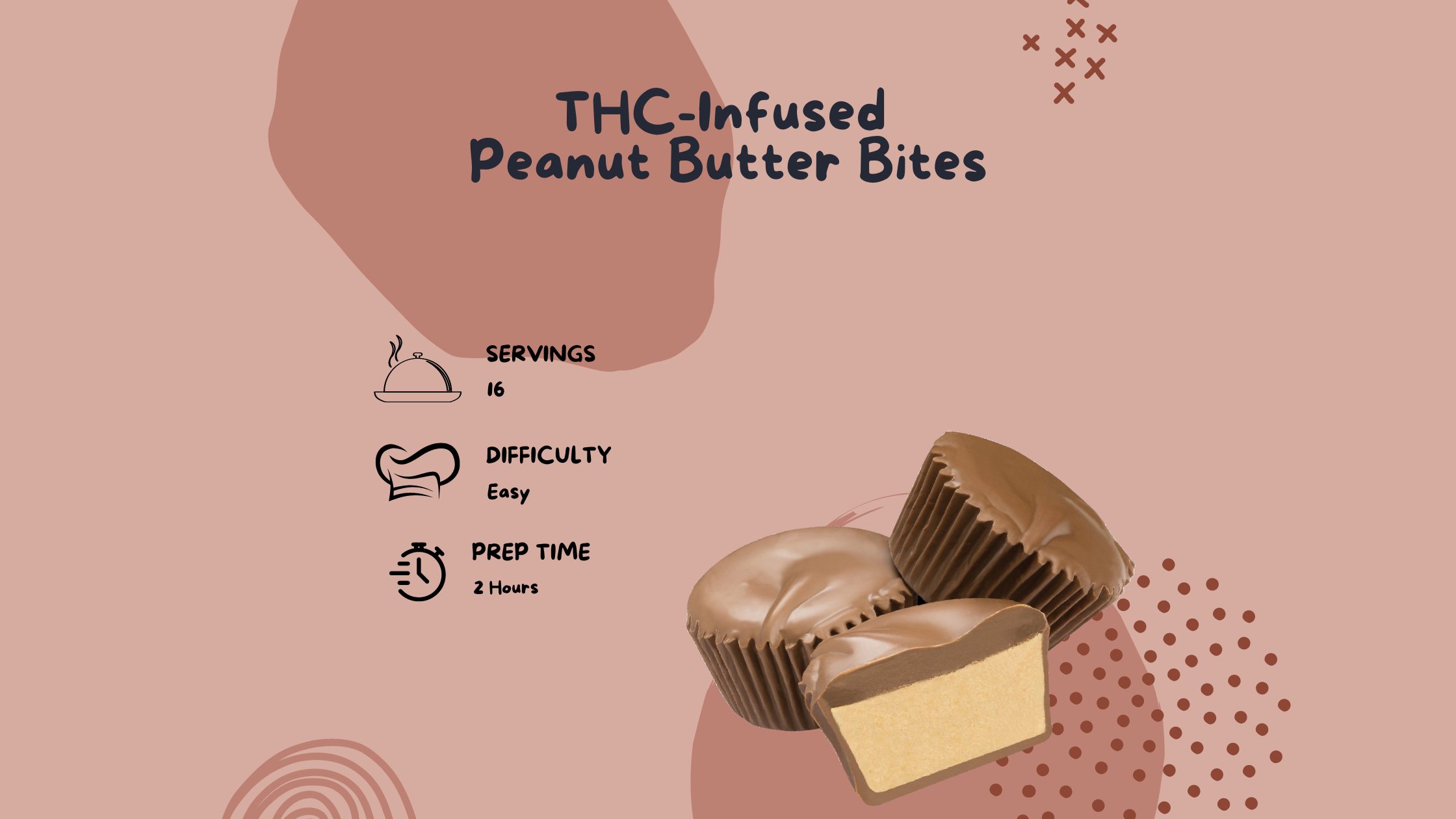 THC- Infused Peanut Butter Bites
These are so fun and tasty – like frozen Reese's peanut butter cups, but better.
INGREDIENTS
½ cup (125ml) coconut oil, divided.

¾ cup (175 ml) almond flour

½ cup (125 ml) peanut butter

⅓ cup (75 ml) maple syrup

½ tsp (1 ml) cannabis oil.

1 oz (28 g) dark chocolate
INSTRUCTIONS
STEP 1
Melt the coconut oil and put half of it in a bowl. Combine with the almond flour and mix well to combine.
STEP 2
Distribute the almond mixture evenly in the molds and, Using your fingers or the back of a spoon, flatten the surface. Transfer to the freezer to set for one hour.
STEP 3
In a blender, combine the remaining coconut oil, peanut butter, maple syrup, cannabis-infused oil and puree until smooth.
STEP 4
Remove the molds from the freezer and stuff each with peanut butter paste. Using a grater, grate chocolate over the bites and transfer them back on in the freezer for an hour.
STEP 5
Remove from the freezer and enjoy immediately or remove from the pans, transfer to an airtight container, and store frozen for up to one month.
Introduction: Cannabis enthusiasts are always on the lookout for innovative and convenient ways to experience the diverse benefits of cannabinoids. In recent years, a particular cannabinoid has been gaining attention for its unique properties – Tetrahydrocannabivarin (THCV). When it comes to consumption methods, vape pens have emerged as a popular choice among cannabis users. In…
Read More