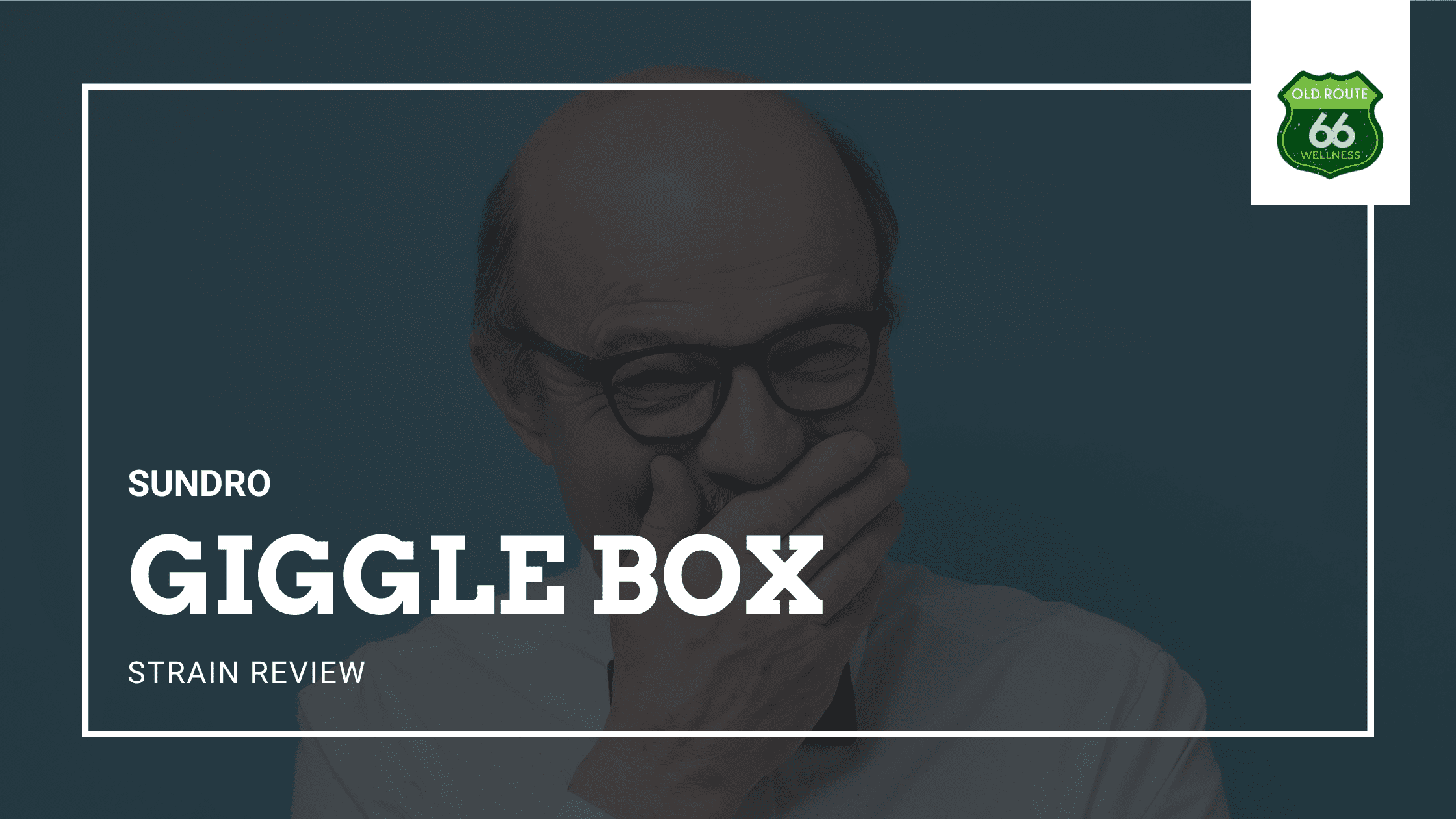 Encycloweedia Bricannabis is ready to share a laugh over Sundro's Giggle Box cannabis strain, so joint me on my latest weedview of Missouri marijuana products. I grabbed a five pack of Giggle Box half gram pre-rolls, deciding to let someone else do the rolling for my morning tokes. Giggle Box is a cross of (Green Crack x Tahoe OG) and Jack Herer which makes for a sativa dominant cultivar. The Sundro tins are some of the nicest I've seen for a pack of pre-rolls. To o-pun the tin, I pressed the buttons on the side and lifted the metal lid. Inside I found the pre-rolls displayed in a secondary airtight container that was easy to reseal between smokes. 
The pre-rolls were laid out in an alternating pattern, and each was rolled to perfection, not so tight I couldn't draw and not so loose I was snacking on scoobies. There was a sour tinge to the herby aroma that filled the air when I opened the plastic that kept the giggles in their box. When it came to lighten up, the twisted tips lit quickly and hardly took any TLC to ensure an even burn. The hint of sourness was not jest in the smell, but the flavor of smoke as well. A mixture of pine and earth also tickled my tongue as I exhaled and smiled while the effects of the Tee-Hee-H-C took hold. It was easy to smoke the pre-rolled cannabis from start to finish. I didn't have to relight any of the joints in the pack, and each burned to the filter evenly.
Sundro's "Sunrise" classification of this cannabis is spot on. The Giggle Box marijuana strain made me feel energized and ready to tackle the day, but kept my head in a silly state more suited for a day of relaxation than business. While my head was up in the clouds, it hopped from one funny highdea to the next. While getting work done was difficult, my head bouncing around like it was, I found this strain excellent for hanging out or gaming. I loved the goofy haze Giggle Box put me in, and starting my day off in such high spirits guaranteed not even the negative temperatures of winter would bring me down. Though I searched near and guffaw I could not find information on this strain's terpene profile, but looking at genetics and experienced effects I'd wager limonene, pinene, caryophyllene, and myrcene are present. Overall, Giggle Box gave me a mood boosting hazy feeling that left my body relaxed and my mind awake. But don't toke my word for it, you'll ha-ha-have to T-H-see for yourself!
Joking and Toking:
People talk about lighting up a tree this time of year, but I'm lighting up trees all year long!
Introduction: Cannabis enthusiasts are always on the lookout for innovative and convenient ways to experience the diverse benefits of cannabinoids. In recent years, a particular cannabinoid has been gaining attention for its unique properties – Tetrahydrocannabivarin (THCV). When it comes to consumption methods, vape pens have emerged as a popular choice among cannabis users. In…
Read More