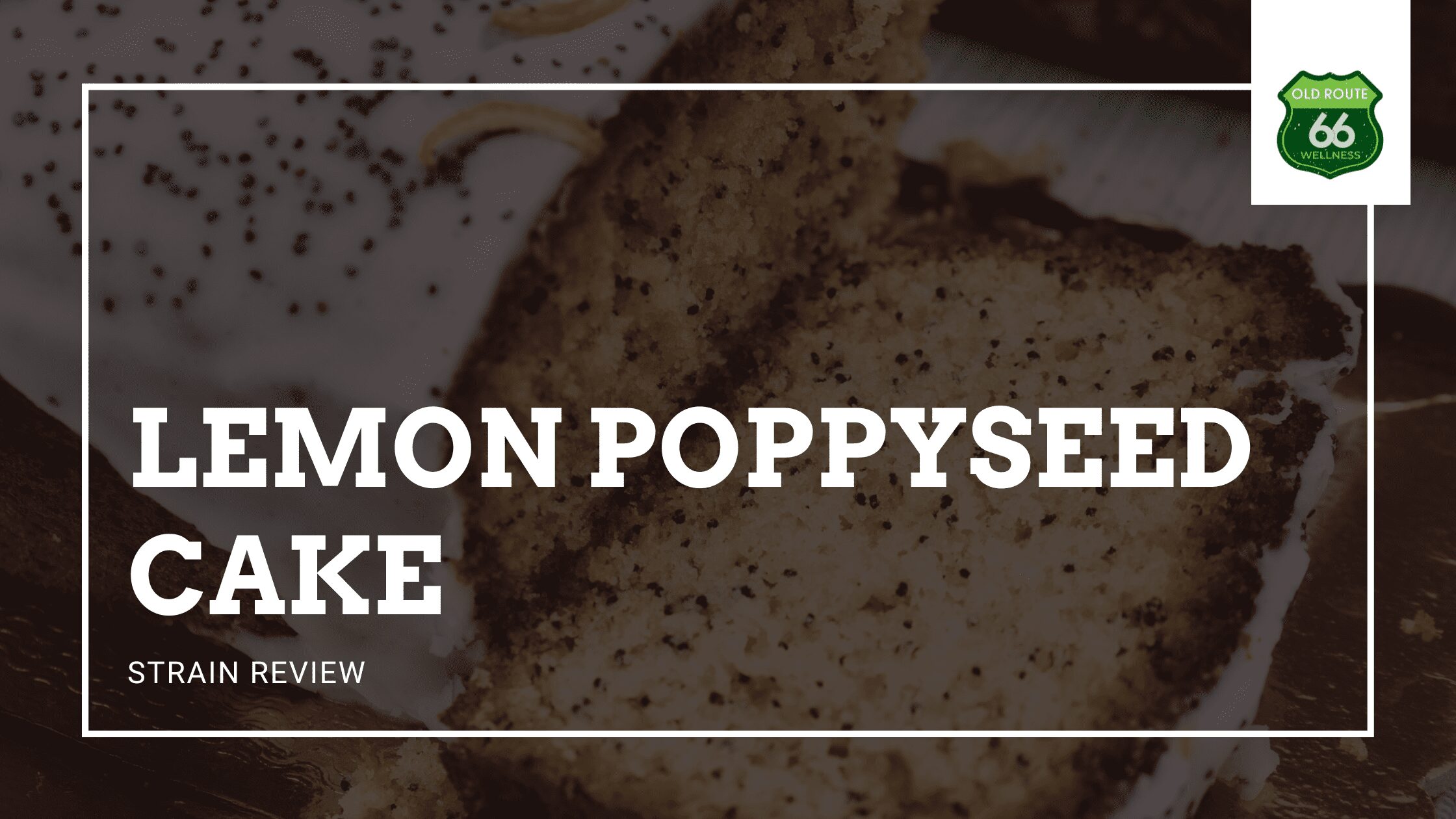 Growing up I loved lemon poppyseed muffins. Something about the tart little cakes with their tiny crunchy seeds has always enticed me, and it was no surprise my eyes immediately saw Lemon Poppyseed Cake as it hit my favorite dispensary, Old Route 66 Wellness. I was happy to see it was cultivated by Good Day Farms, a newer brand that had impressed me with their Lilac Diesel. Lemon Poppyseed Cake is a sativa dominant strain, and the buds I picked up were coming in at close to 20% THC, top terpenes listed as limonene, pinene, and nerolidol. Based on this information, I knew I'd want to smoke this strain in the morning and throughout the day. While limonene and pinene tend to give me an energetic feeling, nerolidol helps melt away my stress and relax me. Such a combination seemed sure to leave me in a great mood without slowing me down at all.
Ripping open the bag and diving in headfirst revealed an herbaceous scent with hints of pine that left a lingering lemon aroma. Oddly enough, the fragrance reminded me of the muffins I love so much. Each bud was bright green, accentuated by orange hairs that, like the rest of the bud, looked fuzzy. The amount of trichomes glistening as I twirled the flower made me smile with delight, and just holding one for a moment was enough to coat my fingers in sticky goodness. Grinding or breaking the buds down released more of the lemon scent into the air, and added a kick of pepper to the flower's fragrance. A smooth smoke that didn't scratch my throat or tingle my nose, the exhale tasted fresh. Lemon, pepper, and an earthy herb flavor were relished as I felt an almost immediate head change. Smoking from a pipe, the bowl hit smoothly from start to finish, while anything I rolled burned evenly and at a pace I enjoyed.
The first exhale left me with a large smile on my face. I knew this was going to be a good day. While the Lemon Poppyseed Cake strain pairs wonderfully with coffee in the morning, it is also wonderful at keeping afternoon drowsiness away. I felt focused at work and home, accomplishing tasks in my professional and personal life with ease. Additionally, I was talkative. Very talkative. I felt like sharing my thoughts with everyone, enjoying conversations about everything from UFOs to barbeque recipes. Many of the conversations I had turned to me praising Lemon Poppyseed Cake, and I've since found several others that enjoyed the same effects as I after smoking this delicious marijuana strain. If you're looking for an uplifting, energetic, anxiety-melting strain, check out Lemon Poppyseed Cake from Good Day Farms.
Introduction: Cannabis enthusiasts are always on the lookout for innovative and convenient ways to experience the diverse benefits of cannabinoids. In recent years, a particular cannabinoid has been gaining attention for its unique properties – Tetrahydrocannabivarin (THCV). When it comes to consumption methods, vape pens have emerged as a popular choice among cannabis users. In…
Read More