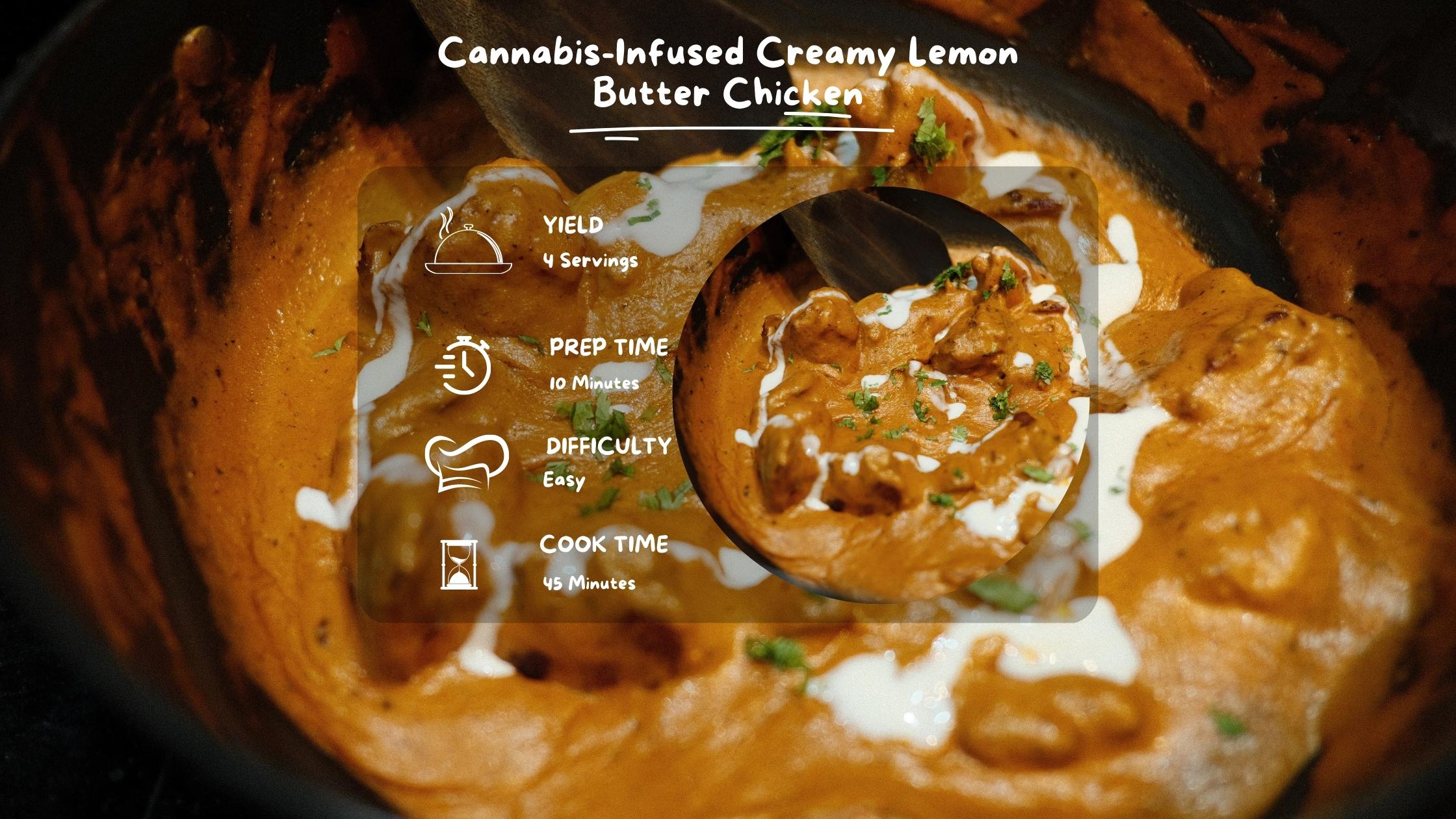 Cannabis-Infused Creamy Lemon Butter Chicken
Chicken is a popular dinner choice, so why not add a little THC? All you need is chicken, spices, salt, a few simple ingredients, and some cannabis.
Not only are chicken thighs cheap, but they are also meaty, tasty, and full of flavor. This creamy marijuana lemon butter chicken recipe has many benefits. One of them is that you only use one pot. That means easy clean-up, and it also includes a simple set-up process.
All you have to do is follow the simple instructions below.
Ingredients
4 chicken thighs

1 teaspoon salt, plus extra

1 teaspoon lemon pepper

3 tablespoons cannabutter

5 cloves garlic, minced

½ cup chicken broth

1 cup heavy cream

½ cup parmesan cheese, grated

2 lemons, zested and juiced

1 bunch of fresh thyme

5 oz baby spinach

A large pot or skillet with deep sides
Recipe:
This recipe has a long cooking time of 45 minutes. That said, it's hard to go wrong. Use the skin on the chicken thighs for the best meat possible, and remember to prepare your side dishes simultaneously.

Preheat oven to 400˚F.

Place the raw chicken thighs in a mixing bowl and season with salt and lemon pepper.

In a large skillet, add two tablespoons of cannabutter and slowly melt it. Make sure it covers the bottom of the pan.

Add the chicken, skin side down, and fry for 3-4 minutes. Then flip and fry the other side.

Remove the chicken from the skillet, and set aside on a plate. Melt the remaining cannabutter. Add minced garlic and cook until fragrant. Then stir in the chicken broth, Parmesan, lemon zest, lemon juice, and heavy cream. Add a few sprigs of thyme to the pan. Bring the sauce to a boil, then reduce the heat.

When the sauce has thickened a little, add the spinach and allow it to melt.

Add the chicken thighs to the pan, then transfer everything to the oven – be careful, as it's heavy. Bake for 25 minutes.

Serve with the side dish of your choice.
Every now and Zen during Spring I like to leave town early in the morning with my dog, Boba Fettch. We hightail it out to a nearby trail, which one we end up at never matters, and spend a couple of hours walking around. There's something about being outside in the morning hours that makes…
Read More