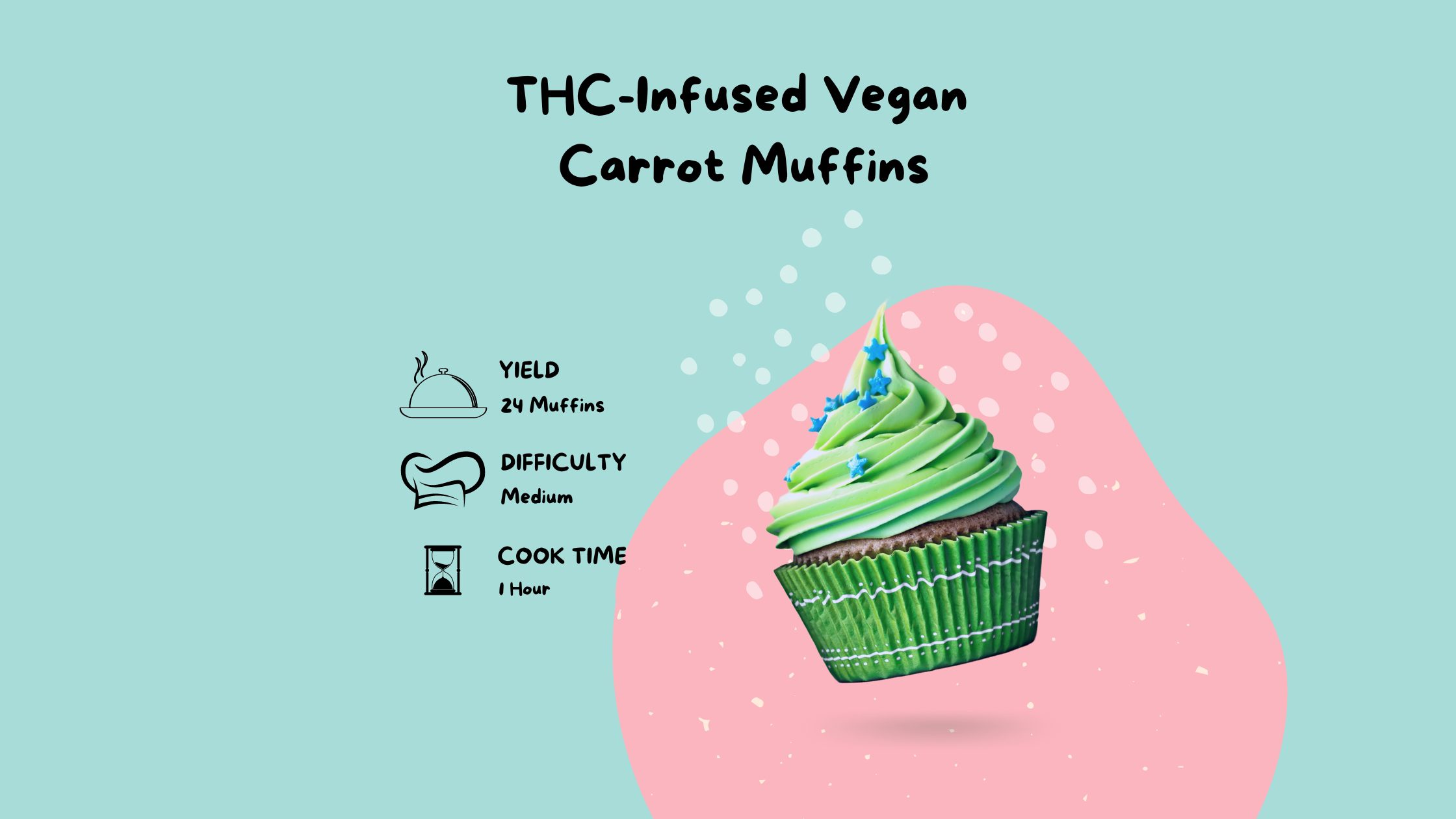 THC-Infused Vegan Carrot Muffins
Vegans don't eat animal products, including meat, dairy products, eggs, gelatin, and honey, to name a few. This recipe will prove that you can make delicious infused deserts without some of your pantry staples. For this recipe, you will need the following ingredients.
½ cup melted coconut oil

24 grams of cannabis bud

1¾ cup all-purpose flour

½ teaspoon salt

¼ teaspoon baking soda

⅛ teaspoon baking powder

1 teaspoon ground cinnamon

½ teaspoon ground nutmeg

1 teaspoon ground ginger

1 tablespoon fresh lemon juice

½ cup soy milk

1 cup maple syrup

1 teaspoon vanilla extract

2 cups finely chopped carrots

½ cup crushed pineapple, well-drained

½ cup golden raisins

½ cup sweetened shredded coconut

½ cup finely chopped pecans
Directions:
Preheat the oven to 350° F.

Line a muffin tin. Set aside.

Mix the coconut oil and cannabis buds in the pan. Cook on low heat for 30 minutes. Strain through a metal filter, press the buds to the sides, remove all oil, and cool.

Sift flour, salt, baking soda, baking powder, cinnamon, nutmeg, and ginger in a mixing bowl.

Whisk together lemon juice, soy milk, maple syrup, and vanilla in a separate bowl.

Pour the wet ingredients into the dry ingredients. Whisk until combined. Mix the carrots, pineapple, raisins, coconut, and pecans.

Put the dough in the prepared muffin tin. Bake for 20 to 25 minutes or until a toothpick inserted into the center of a muffin will come out clean and the muffins are golden brown on the top. Cool it down completely.

Dig in.
Introduction: Cannabis enthusiasts are always on the lookout for innovative and convenient ways to experience the diverse benefits of cannabinoids. In recent years, a particular cannabinoid has been gaining attention for its unique properties – Tetrahydrocannabivarin (THCV). When it comes to consumption methods, vape pens have emerged as a popular choice among cannabis users. In…
Read More