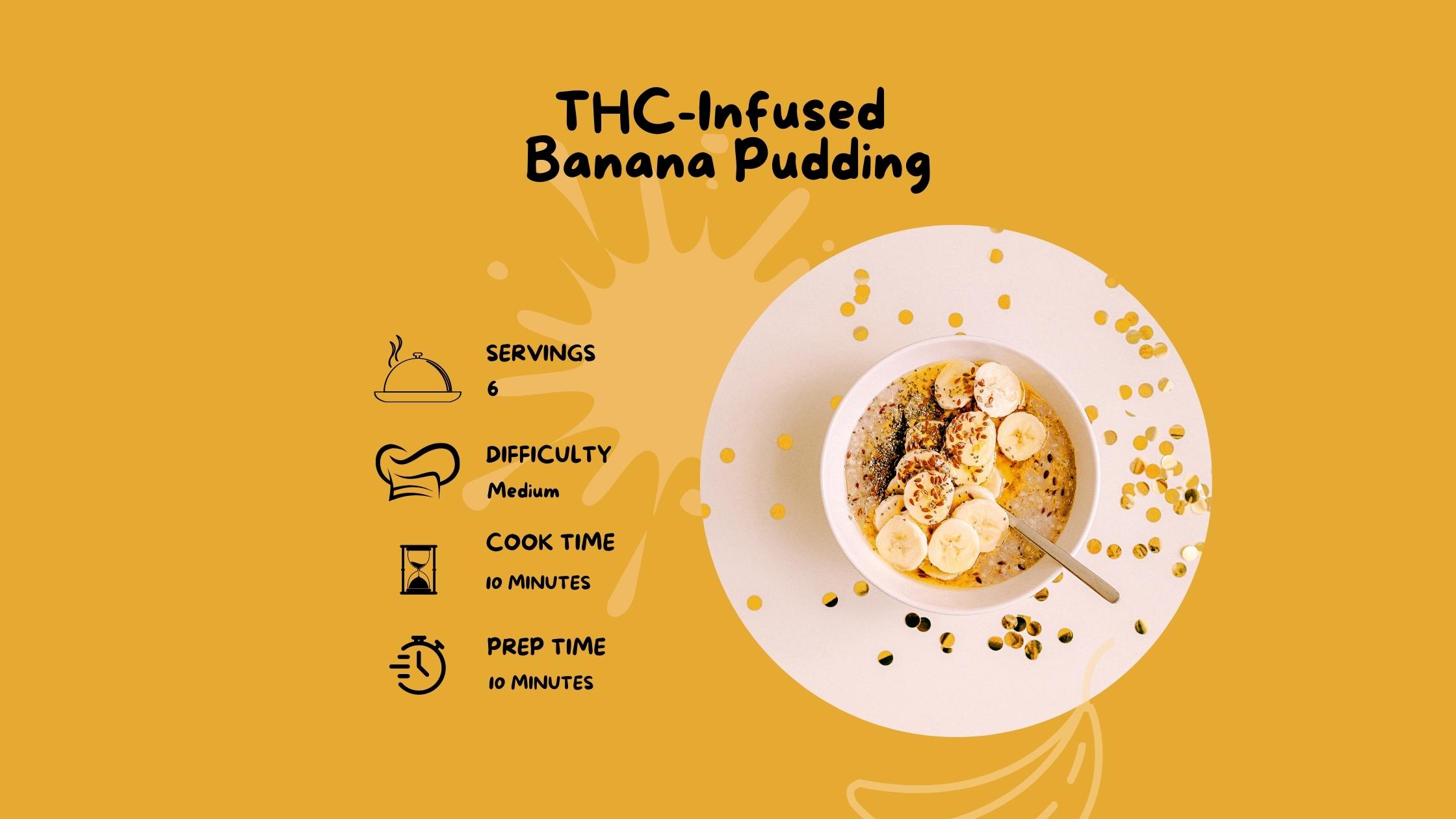 THC-Infused Banana Pudding
If you've dreamed of something creamy and decadent, today we are making banana pudding. This easy-to-make dessert satisfies any day of the week and can be frozen for weeks when you want a little dessert! The best part here is Nilla Wafer cookies, which add a delicious smoothness when mixed with banana pudding and are crunchy when sprinkled on top. Just like a trifle, this pudding is an explosion of classy perfection.
The homemade banana pudding with a thick layer of vanilla custard, crunchy wafer cookies, and fresh banana slices puts the store-bought version to a shame.
Pudding ingredients
One box Nilla wafers (or a similarly textured cookie)

Four egg yolks

Three ripe bananas (peeled and sliced)

3 cups whole milk

2 ½ cups sugar

¼ cup cornstarch

Two tablespoons cannabutter

One tablespoon of vanilla extract

½ teaspoon salt
Whipped cream ingredients
¾ cup of heavy whipping cream (chilled)

Three tablespoons of icing sugar

½ teaspoon vanilla extract
Tools
Medium saucepan

Whisk

Medium mixing-bowl

6 pint-sized sealable mason jars

Plastic wrap

Large mixing bowl

Electric mixer
Recipe
 

Put the sugar, salt, and cornstarch in the saucepan and use a whisk to mix the ingredients.

In a medium bowl, whisk together milk and egg yolk until smooth.

Turn on the stove over medium heat and as the ingredients heat up, slowly add the milk mixture in small increments until the milk mixture is thoroughly combined with the liquid in the pan.

Cook over medium heat, frequently whisking, for 7-8 minutes or until the mixture thickens.

Remove the pan from the heat, add the butter and vanilla, and stir until the fat has completely melted.

Take out the mason jars and remove the lids, so they are ready to be filled. Once they are lined up, you can start placing four pieces of Nilla Wafers in the bottom of each one. The next step is to make the pudding, and you will need about one large tablespoon in each cup.

Continue with four banana slices, then repeat the last two steps until you have used all the ingredients or the cups are full. Cover the banana pudding with plastic wrap, then put it in the refrigerator for at least 4 hours.

Once you're ready to enjoy your pudding cups, you'll need to whisk all of the whipped ingredients together until they're light, white, and fluffy, at which point your final layer will be ready to coat on top of each dessert.

These pudding cups can be kept at room temperature for a few hours before returning to the freezer for later use, as many milk ingredients can go bad, but if kept in the fridge, these delicious dessert cups can last and stay fresh the whole week.
Introduction: Cannabis enthusiasts are always on the lookout for innovative and convenient ways to experience the diverse benefits of cannabinoids. In recent years, a particular cannabinoid has been gaining attention for its unique properties – Tetrahydrocannabivarin (THCV). When it comes to consumption methods, vape pens have emerged as a popular choice among cannabis users. In…
Read More