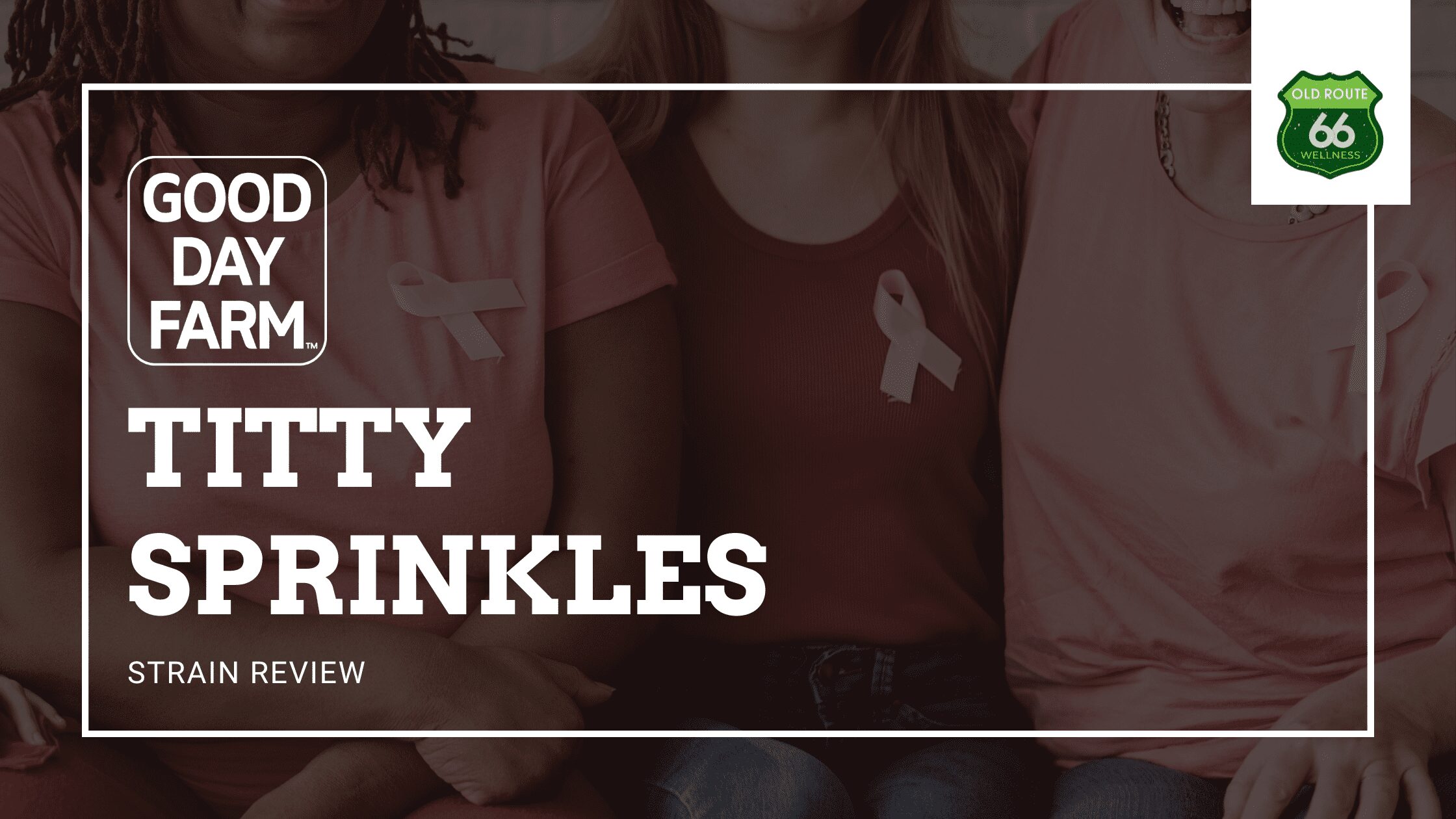 Good Day Farm: Titty Sprinkles
Encycloweedia Bricannabis tries to stay abreast of high quality cannabis strains, and so this week's examination is of Titty Sprinkles from Good Day Farms. The Good Day Farms Titty Sprinkles marijuana strain is an indica dominant hybrid created by crossing Grease Monkey and Purple Punch. Almost impossible to say without smiling, Titty Sprinkles was named to honor the strain developer's mother and her fight against breast cancer. Hoping to raise awareness and support, Good Day Farm donates 10% of Titty Sprinkles sales to breast cancer research. Most of the jokes are right out for everyone to see, but maybe I can slip a couple past you. Corset just depends on how closely you pay attittion.
Opening the jar released a sweet fruity scent with a perky note of spice. As I gazed into the jar I saw dark purple and green flower with wispy amber pistils, buds sprinkled in tantalizing trichomes, and I could not wait to get my hands on a pair. Grinding the set up brought out more of the spicy notes in the aroma. I pondered if the fruity aroma could be likened to melons, but ultimately decided on a mixture of berries and spice. A mouthful of Titty Sprinkles tasted like flowers and fruit, spice disappearing leaving only the sweed taste. Initially I felt a slight headrush and pressure in my forehead. A deep relaxation began in my chest and forehead after several minutes, and then spread throughout my body. Smoking too much indica can make me feel like a boob, and so I limited the amount of these puppies I consumed during the workday. Titty Sprinkles cannabis was bred to aid in fighting pain and com-bra-tting insomnia, and made for a booby-ful nightcap. I slept soundly each night Titty Sprinkles tucked me in bud, snug in a soft set of blankets.
Maybe too many blankets.
Jokes aside, I'd love to see more companies donating to good causes like what's being done through Titty Sprinkles and Good Day Farm. Now that I've got that off my chest, let's talk terpenes. Myrcene and linalool both make appearances and explain the pain relief and sedative effects this strain is known to produce. Caryophyllene and limonene bring in the boulder spice and fruit notes and provide the initial headrush I felt. While I didn't find myself locked to the couch, this vari-titty of cannabis certainly slowed me down during daylight hours. While the Titty Sprinkles strain was made for serious reasons, these flowers definitely make for some fun bags. Ta-tas for now!
Joking and Toking:
What do ghosts call the joints they smoke?
BOO-bies!
Every now and Zen during Spring I like to leave town early in the morning with my dog, Boba Fettch. We hightail it out to a nearby trail, which one we end up at never matters, and spend a couple of hours walking around. There's something about being outside in the morning hours that makes…
Read More