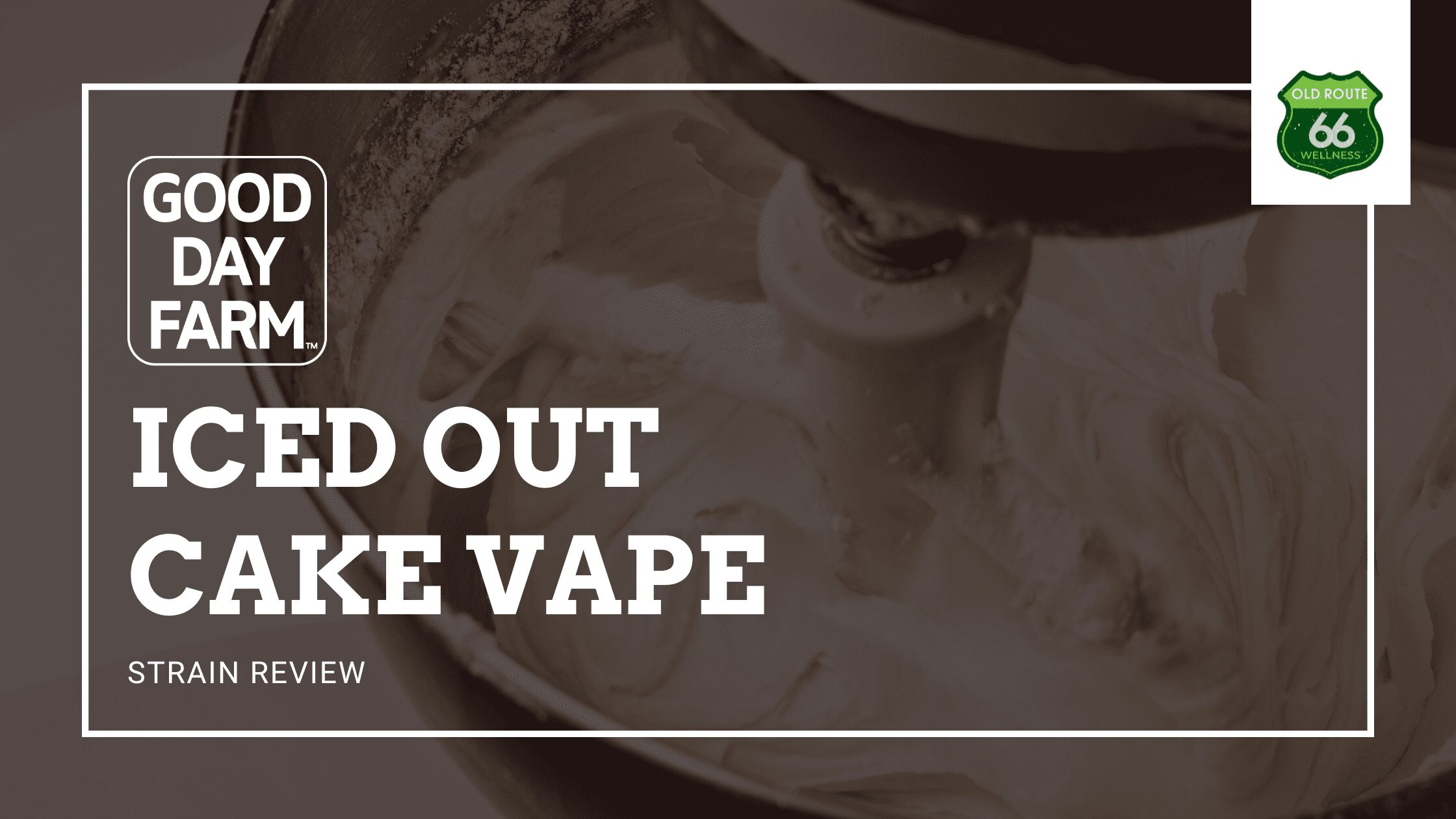 Good Day Farm: Iced Out Cake Vape
Encycloweedia Bricannabis is keeping things cool this week by checking out Good Day Farms Iced Out Cake live resin vape cart. This half gram vape cart is Good Day Farms own unique phenotype of Ice Cream Cake. Iced Out Cake is an indica-dominant hybrid strain descended from parent strains Wedding Cake and Gelato 33. The live extracted full spectrum cannabis oil kept me as chill as the fall weather rolling in without causing any drowsiness. I coasted through my days off without a worry, laughing to myself about having obtained a peace of cake. Though relaxed, I maintained motivation accomplishing housework and creating content for D&D games. Two days off work so I was looking to chill out and bake, and found it with Iced Out Cake. With the weather being so iced outside lately I thought why not grab Iced Out Cake.
Live resin oil is more flavorful than distillate on its own due to it being made from frozen flower. The resulting product is highly concentrated and the closest thing to marijuana flower that can be canna-sumed with a vape battery. This variety of vape cart is not subtle, and packs a more potent flavor and smell than distillate carts. Iced Out Cake had slightly sweet and creamy vanilla notes on the exhale. The flavor and aroma reminded me of the smell of baking sugar cookies. With just a couple sips I felt relaxed and focused. I threw on some jazz and had an ice time cleaning before taking a few more sips and sitting in the backyard for a bit. My body felt relaxed to the point l felt I was sinking into the chair on my porch, calmness resin-ating in my chest. I enjoyed Iced Out Cake so much I kept ripping the pen, and it wasn't long before I had reached the end-ica cart.
As I consumed the cake I found it relaxed me to the point I took a two hour nap on the floor next to my dog. I had an amazing nap, but found my back sore when I woke up. However, a little stretching and some more sips soon eased my soreness. I canna-gree with the reports that this cultivar cultivates restful slumber, relief from aches and pains, and melts anxiety like a lump of ice cream in morning coffee. Iced Out Cake is a Good Day Farms live resin cart I'm glad I got a piece of, and it won't be long before I have another Good Day.
Joking and Toking:
What do cakes like to do to relax?
Get baked!
Introduction: Cannabis enthusiasts are always on the lookout for innovative and convenient ways to experience the diverse benefits of cannabinoids. In recent years, a particular cannabinoid has been gaining attention for its unique properties – Tetrahydrocannabivarin (THCV). When it comes to consumption methods, vape pens have emerged as a popular choice among cannabis users. In…
Read More