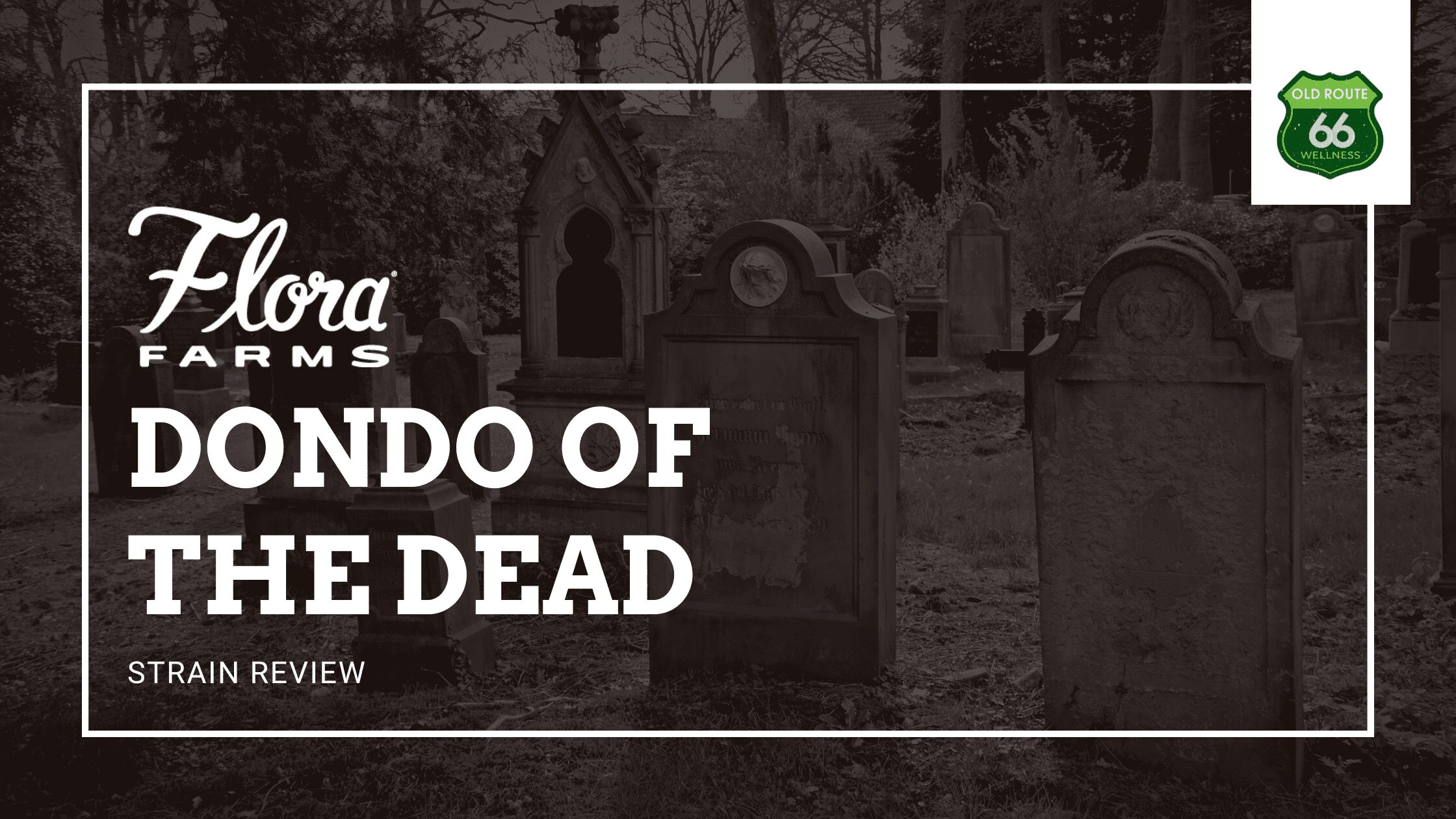 Flora Farms: Dondo of the Dead
Encycloweedia Bricannabis returns to trick you with horrible puns and treat you to some in-Flora-mation about Dondo of the Dead, a unique sativa dominant hybrid strain. Flora Farms Dondo of the Dead is an exclusive cultivar from the cultivator, and was created by crossing Early Lemon Berry with Miss Cleo. This strain can currently only be found in Missouri dispensaries.  The weedsulting variety of cannabis gave me an energetic drive from dawn to dusk, and my mood was uplifted throughout this day of the dead. Originating in Africa, a dondo is known as a talking drum for the way it can mimic the cadence of human speech when played. I definitely felt talkative as I danced to the beat of the Dondo of the Dead marijuana strain. 
Hopefully I can tell you something you dondo already in this review!
I opened the bag of flower with a RIP and my nose was instantly filled with a sweet fruity aroma that carried a piney bite. The bright green flower was finely coated with trichomes and amber arms rose from the bud, reaching for me like zombies trying to escape the ganja's grasp. Grapefruit compined with the other flavors to create a deadlicious fruity taste that seemed to both awaken and brighten my spirits. Aroma, flavor, and much of the entourage effect can be attributed to a marijuana strain's terpenes. Carryophylene, pinene, and limonene dominate Dondo of the Dead, which explains the energy this cannabis provided me. Initially I felt a rush behind my eyes and a hazy sensation setting in, but the haze shortly lifted leaving a focus and vitality I had not expected from a strain with dead in the name. BeFlora long I was vamped up and ready to tackle my day. I noticed myself telling more stories and moving with a little extra pep in my step thanks to Flora Farms and their beautiful creation. I had a lot on my schedule this week, but Floratunately Dondo of the Dead cannabis kept me from being buried by bringing attention focusing energy and raising my spirits.
Joking and Toking:
What do zombie stoners crave most of all?
STRAAAINS!!!
Every now and Zen during Spring I like to leave town early in the morning with my dog, Boba Fettch. We hightail it out to a nearby trail, which one we end up at never matters, and spend a couple of hours walking around. There's something about being outside in the morning hours that makes…
Read More