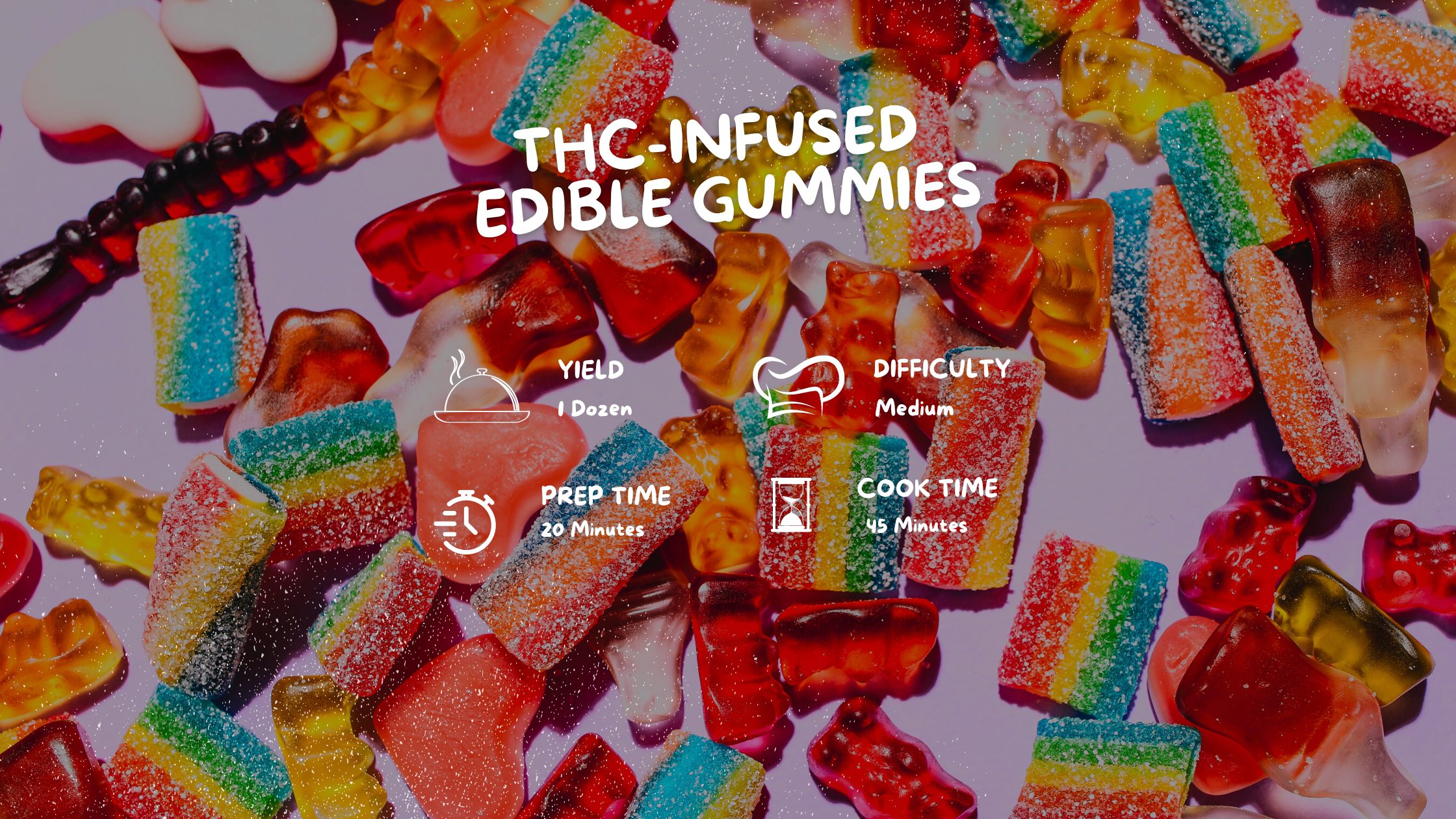 How To Make Edible Gummies
Edible gummies are one of the most popular ways to enjoy cannabis, especially for new cannabis users. Edible gummies are available at most dispensaries (subject to state regulations!), but you can also make them in the comfort of your kitchen. And what's the best thing about making edible gummies? You can customize it to your liking. You can make it in any flavor, size, and color you like.
Do-It-Yourself Gummies recipe
To make your cannabis gummies, you need to have the right ingredients and equipment, including cannabis oil. You can use several types in the production of cannabis gummies: cannabis MCT oil, cannabis coconut oil, canna-butter, or any kind of cannabis oil you want.
Equipment:
Saucepan

Mixing bowl

Whisk

Funnel/squeeze bottle/dropper

A gummy mold of your choice
Ingredients:
½ cup cannabis-infused oil

One package of flavored jello

2 tablespoons of unflavored gelatin powder

½ teaspoon of sunflower/soy lecithin

½ cup cold water
Once you've gathered the ingredients and equipment above, the fun part begins: making cannabis gummies. So how do you make edible gummies? We have reduced the process to five simple steps.
Step 1: Mix water and Cannabis-infused oil
First, add ½ a cup of cold water, ½ a cup of hemp oil, and ½ a teaspoon of sunflower/soy lecithin to a small pan and place over low heat.
Step 2: Add gelatin
Once you have added the ingredients, you will want to continue mixing the mixture until the cannabis-infused oil is completely dissolved and a consistent texture is created. Then you want to add a package of flavored gelatin and 2 tablespoons of unflavored gelatin to the mixture and mix further.
Step 3: On Low Heat
Continue to stir the mixture over low heat for at least 10-15 minutes to dissolve the gelatin completely. Do not stop stirring. Boiling prevents the mixture from setting well. If you start to notice white foam on the top, remove and reduce the temperature. All ingredients at this point must be perfectly combined and have a smooth consistency.
Step 4: Fill the gummy molds
Once all the ingredients are well combined, you can start filling the gummy molds. You can do this with a funnel, squeeze bottle, or dropper – wherever you want.
You want to put the saucepan on the heat and act immediately, so the mixture cools. As the mixture begins to cool, the oil separates, which you don't want. You should also keep the mixture from sticking and solidifying. Remember – the sooner you get the mixture into gummy molds, the better it will come out.
Step 5: Freeze
Once the gummy molds are full, just put them in the freezer for at least 30 minutes. After solidifying, you will have a firm but somewhat sticky structure, remove them from the molds and place them on a piece of parchment paper, where they dry in the air.
Adding cannabis to Non-Infused Gummies
So you know how to make edible gummies, but can you turn regular gummies into edibles?
Yes, the process looks a bit different. If you want to make regular gummies, you will need 2 tbsp warm water, 4 ounces of gummies of your choice, 1 tsp gelatin, 1-2 tsp cannabis-infused oil, and a gummy mold.
First, add gelatin to lukewarm water and let sit for 5 minutes. Then add the gelatin mixture to the gummies and microwave until dissolved. Once dissolved, pour in the cannabis oil and mix. Add a little lecithin if you have trouble binding the cannabis oil to the gelatin mixture.
After mixing all the ingredients, put the mixture in a mold and place it in the refrigerator for 30 minutes. After hardening in the freezer, allow another 24 hours to allow the moisture to evaporate. This is another cheap and inexpensive alternative if you don't have the time or resources to make cannabis edibles from scratch.
Introduction: Cannabis enthusiasts are always on the lookout for innovative and convenient ways to experience the diverse benefits of cannabinoids. In recent years, a particular cannabinoid has been gaining attention for its unique properties – Tetrahydrocannabivarin (THCV). When it comes to consumption methods, vape pens have emerged as a popular choice among cannabis users. In…
Read More