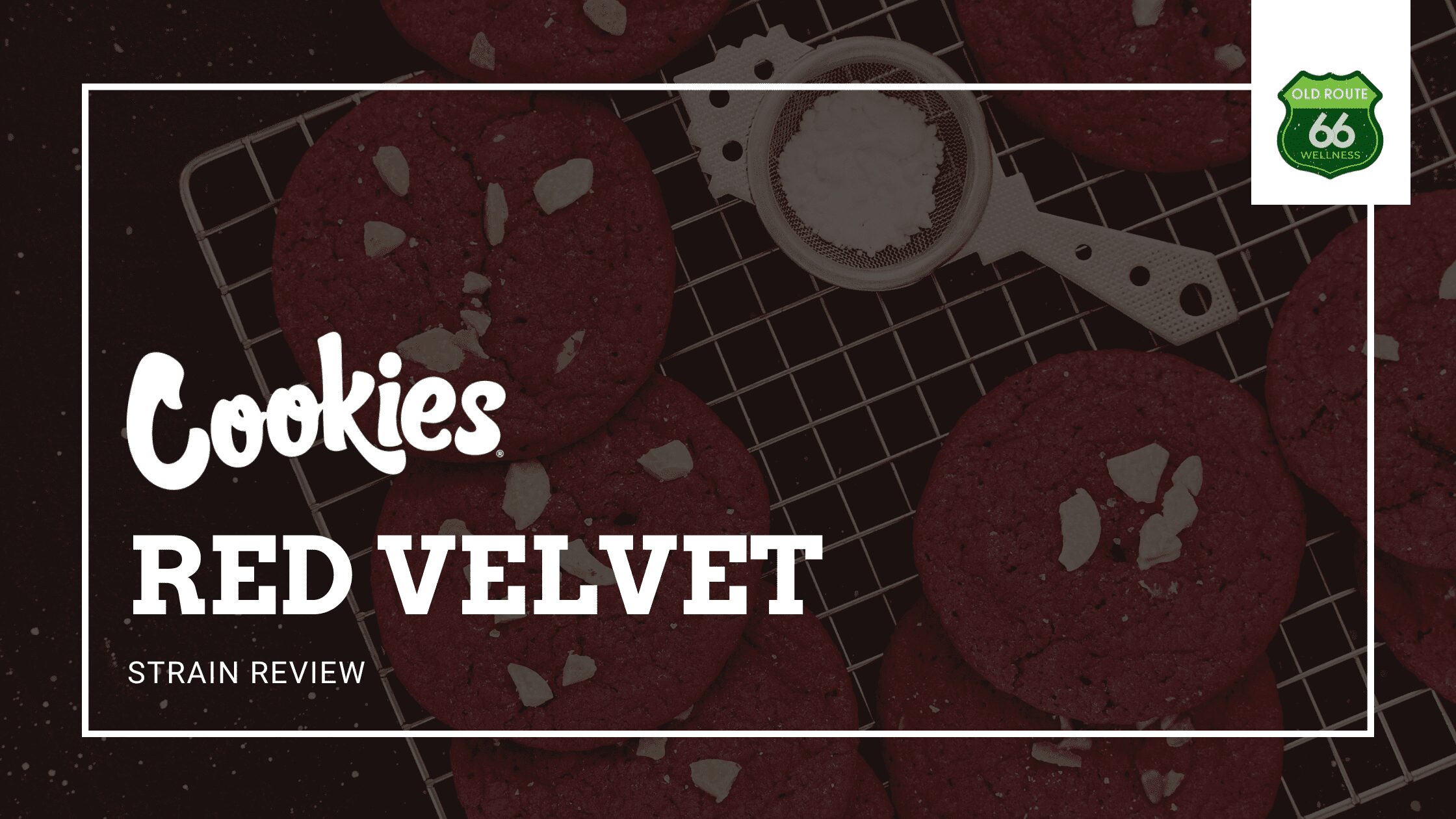 Encycloweedia Bricannabis doesn't always pair two desserts, but I've got a sweet tooth this week so let's take a look at the Red Velvet marijuana strain from Cookies. I've always been a fan of cake, and when the craving hits me nothing beets a slice of red velvet. Cookies Red Velvet is a well balanced hybrid created when Grandiflora mixed Lemon Cherry Gelato with Pina Acai to create a batch of Cookies that created feelings of relaxation and cheerfulness throughout the day. While there is a slight sativa lean to the strain, this high-brid's genes are 45% indica and the first exhale left me feeling light and mellow. Although the flower was more green than the name implies, Red Velvet's rich flavor had me savoring each hit and 29% THC potency was just icing on the cake.
Diving into the bag one morning weedvealed a unique rubbery and cinnamon aroma with slightly sweet notes. Intrigued by the smell I immediately tore into one of the chunky buds to see how the Cookies crumbled. The aroma was only enhanced, but the sweetness revealed an almost floral scent behind it. Rather than cream cheese, Red Velvet's forest green buds were coated in trichome frosting, and even the amber pistils seemed to sparkle as I twirled the flower in my fingers. The smoke was smooth and had a pleasant earthy flavor with hints of spice, not unlike what I'd imagine combusting a cake would smell like. Immediate relaxation washed over my body and my mind felt a familiar haze settling in. As I revisited slice after slice throughout the day, I was in-cake-able of feeling anything but joy. This strain of merry-juana will find a place in my Top Ten list for sure due to keeping me in high spirits and deeply relaxing me without causing me any drowsiness.
The unique aroma and flavor profile of the Red Velvet cannabis strain is due to the blend of terpenes it is caryophyllene. The four dominant terpenes in this recipe are caryophyllene, limonene, linalool, and nerolidol, with caryophyllene having more than double the content of limonene and four to five times as much concen-cake-tion as the others. Any anxieties I had melted away, and housework seemed a piece of cake over the weekend. I have to admit, even though I spent a few days consuming Cookies Red Velvet, I was the one baked good in my house! If you haven't stuck your hand in the Cookies jar, I suggest getting baked with a cake, Red Velvet.
Joking and Toking:
What's it called when a baked confection finds enlightenment?
Peace of Cake!
Introduction: Cannabis enthusiasts are always on the lookout for innovative and convenient ways to experience the diverse benefits of cannabinoids. In recent years, a particular cannabinoid has been gaining attention for its unique properties – Tetrahydrocannabivarin (THCV). When it comes to consumption methods, vape pens have emerged as a popular choice among cannabis users. In…
Read More