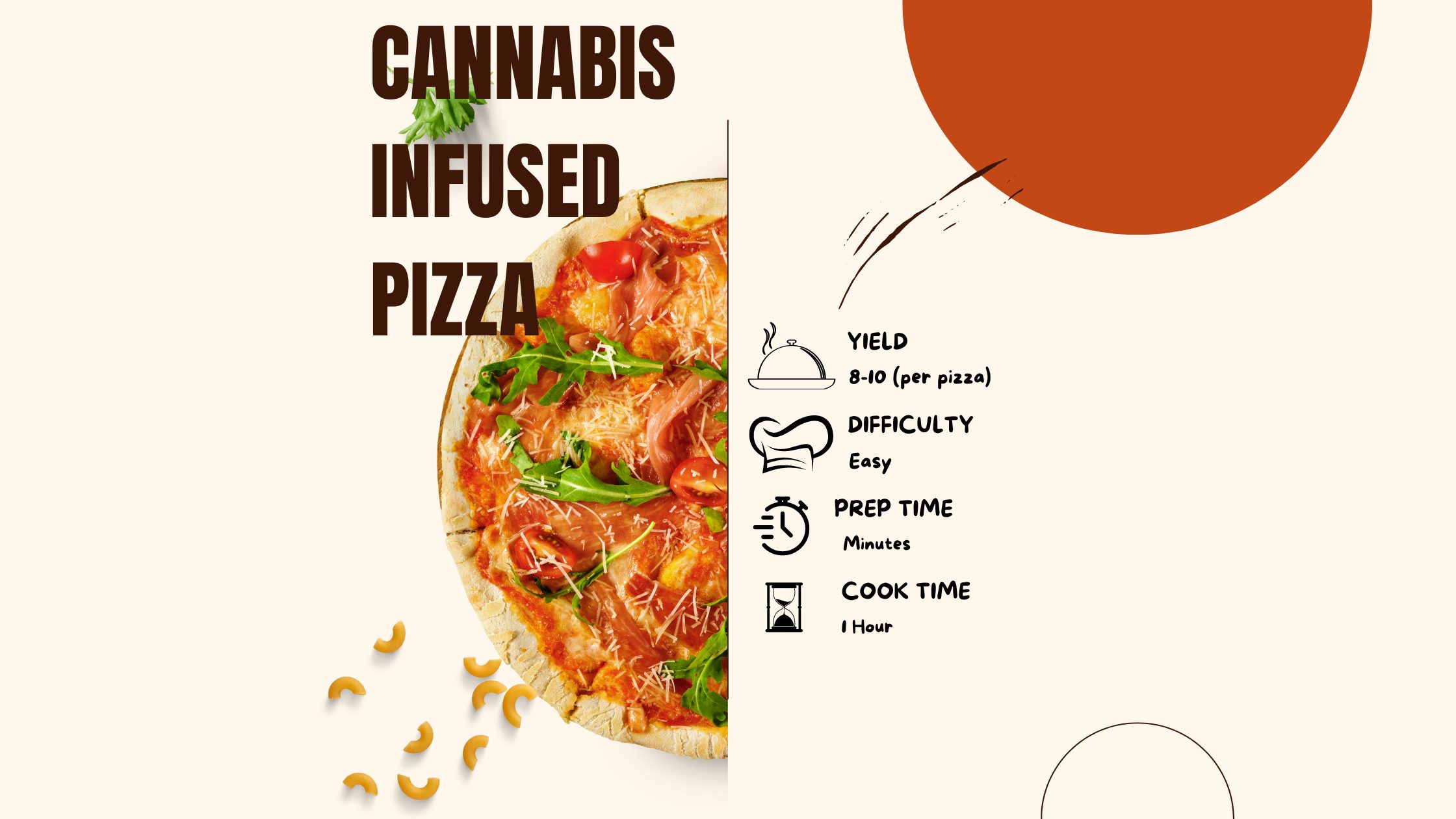 Pizza is one of the most popular foods. It is oily, salty, cheesy, and very tasty. Plus, you can get it delivered to your door, which is perfect for when you want to avoid getting out but your craving a delicious pizza.
This pizza recipe requires surprisingly little effort. It is cheaper than takeout, and you can add it to anything.
Cannabis-Infused Pizza Recipe
Once the oil is ready, it's time to make a pizza. It's not too tricky, so don't worry if you're not a cooking enthusiast. Grab the toppings of your choice, and let's begin.
How to make cannabis-infused chili oil
Making this recipe is very easy, but it takes a little time. If you make canna oil and add it to the pizza base, feel free to skip the chilies step. We recommend using olive oil for the best flavor. First, grab your favorite strain of cannabis. You only need about 1g of cannabis for each pizza. Feel free to adjust the dose if necessary, but calculate the strength you need before cooking. Begin by decarboxylating the cannabis for 30-45 minutes.
This recipe makes 1 cup of canna oil. You won't need it all, but it keeps well in a sealed bottle.
Add 1 cup of olive oil to a pot or two burners. Pour in the decarboxylated cannabis.

 Cook the mixture on low heat for about 3 hours. Stir it occasionally and make sure it doesn't boil or burn.

Strain the canna oil through a cheesecloth to remove the plant material. The easiest way is to fry it directly in another pan.

Add two dried red chilies, and 20 g dried chili flakes to the oil. Heat the oil for 3-4 minutes, then switch off the flame. When the oil cools down, pour it into an airtight bottle. Refrigerate until use.
For the Pizza Base
5 cups all-purpose flour, plus extra for dusting

1 tsp salt

1 packet (0.25oz) of active dry yeast

1 tsp white sugar

1 cup warm water

2 tbsp olive oil (or canna oil if you prefer)
For the Sauce
1 cup tomato passata

1 garlic clove, crushed

1 tsp oregano or mixed Italian herbs
For the Topping
1 ball mozzarella cheese

Toppings of your choice
Instructions
Once you have prepared the oil, it's time to make the pizza. It's easy, so don't worry if you're not a good cook. Grab your toppings, and let's get started.
In a large mixing bowl, combine all the flour and salt. Make a well in the center with a wooden spoon, then take it out.

In a large bowl, combine warm water, yeast, and sugar. Mix well until the sugar and yeast dissolve, then sit for 10 minutes. When it becomes creamy, the yeast is ready to use.

Add olive oil or canna oil to the yeast mixture, then pour the liquid into the "well" in the flour.

Bring the mixture together into a smooth dough using a wooden spoon or your (clean) hands.

On a lightly floured work surface, knead the dough until it is clean and elastic. Cover lightly with a clean cloth and leave it for 5 to 10 minutes.

In the meantime, combine all the ingredients for the tomato sauce in a saucepan, and boil until it thickens. Remove from heat.

Preheat oven to 450˚F (230˚C).

Knead the dough again, divide it in half and roll it into a circle on a baking sheet or pizza plate.

Add the pasta sauce, mozzarella torn into small pieces, and your ingredients.

Bake both pizzas for 10-15 minutes until the sides are golden brown.
Every now and Zen during Spring I like to leave town early in the morning with my dog, Boba Fettch. We hightail it out to a nearby trail, which one we end up at never matters, and spend a couple of hours walking around. There's something about being outside in the morning hours that makes…
Read More